Friday, August 10th 2012
Giants Drop Preseason Opener in Jacksonville
The first game of the preseason for the New York Giants gave an opportunity for players to show why they deserve a spot on the 53 man roster with the defending champions. It also gave some reasons as to why some people shouldn't.
There isn't much to take from preseason games other than getting a look at newcomers.
David Wilson, the Giants first round pick out of Virginia Tech, was the last running back to take a carry on Friday night for Big Blue. On his first carry he was sandwiched by tow Jaguars and then broke off a 26 yard burst up the middle quick enough that if you blinked you would have missed it. On his third carry he was hammered for a five yard loss.
http://prod.static.giants.clubs.nfl.com//assets/images/imported/NYG/photos/david-wilson/wilson_center_081212.jpg
Wilson also caught two passes, the first of which was a screen play in which he ran over two Jaguars. In his short appearance, Wilson showed the ability to break the big play and toughness, two things the Giants need from their running game this season that was lacking last year.
The battle for the backup running back position behind Ahmad Bradshaw looks like it is going to be fierce throughout camp. In addition to Wilson, the Giants also have D.J. Ware and Andre Brown fighting it out.
Ware was solid, getting the first crack after Bradshaw Friday night. Ware got five carries for 30 yards, including a two-yard touchdown, showing elusiveness and quickness.
Brown got the next shot and looked impressive his first two carries which resulted in 19 yards. He was later stuffed in a third-and-one attempt, finishing with seven carries for 25 yards and one reception for four yards.
Second round pick Rueben Randle was not to be outshined by his fellow rookie, as he showed some glimpses of his potential as well. Randle made two receptions on the night, the first a 21 yard catch and the second one a six-yard touchdown in the corner of the end zone. The touchdown reception was a good look at Randle taking the size advantage he has and putting it to use.
The wide receiving corps are set at the top with Victor Cruz and Hakeem Nicks, once he returns from injury, but there will be a competition for the third receiver spot. Randle had a strong showing but will have to hold off veterans Domenik Hixon, who sat with a hamstring injury and is returning from an ACL tear last season, and Ramses Barden, as well as second year player Jerel Jernigan.
Jernigan just missed making a spectacular play with one hand as it seemed Jaguars corner Williams Middleton was holding down his other hand. Isiah Stanback did make a highlight reel play later in the game, snagging the ball out of the air with one hand for a touchdown off a pass from David Carr.
Last season's first round pick Prince Amukamara has some expectation so fill this season especially if he is needed to fill in for Terrell Thomas. Amukamara struggled in the beginning of the game, being targeted by the Jaguars offense throughout the first drive, getting burned multiple times and eventually surrendering a touchdown to Jaguars receiver Cecil Shorts.
Amukamara would redeem himself the next drive, stripping Shorts of the ball resulting in the Giants recovering the fumble. Amukamara is the guy the Giants want replacing Thomas if it comes down to it, he just needs to get more reps under his belt after a rocky rookie campaign.
Free agent tight end signed Martellus Bennett has made some waves in training camp with his mouth and backed it up at least for one game Friday night. Bennett referred to himself as the "Black Unicorn" because of his blend of speed and size and showed off some of those talents reeling in three catches for 27 yards and a touchdown. The Giants are expecting good things from Bennett not only in the passing game but blocking as well.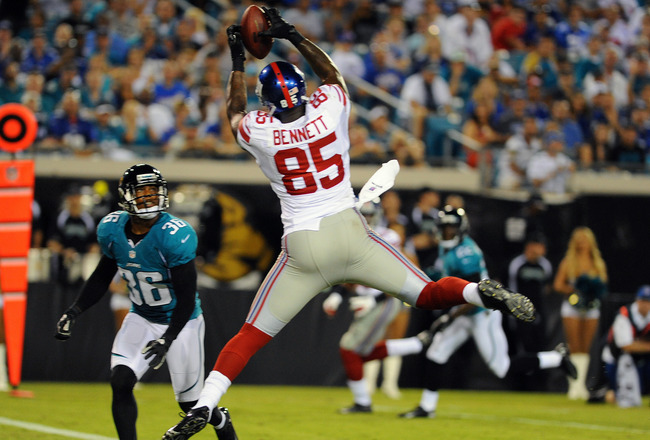 http://cdn.bleacherreport.net/images_root/slides/photos/002/497/224/hi-res-150133384_crop_650x440.jpg?1344708744
The rookies from Virginia Tech, Wilson and cornerback Jayron Hosley, had impressive showings on special teams. Special teams for the Giants were weak last year, lacking an explosion in the return game; Wilson and Hosley have the ability to change that this season.
Wilson averaged 38 yards a kick return, highlighted by a 48 yard return in the second quarter. Hosley made a costly mistake muffing a punt, but did have solid returns before the muff going for 34 yards on three returns.
Hosley was also solid on defense, getting a sack and showing solid coverage skills. If Hosley is able to limit his mistakes, he has an outstanding chance of being a real contributor this season.
Other Giants to make positive impacts were Adrian Tracy, looking to make an impact in the spot vacated by Dave Tollefson this season. Mark Herzlich also looked strong throughout the game at the linebacker position and could potentially push Chase Blackburn for his starting spot.
Next up for the Giants is a meeting with the Jets at MetLife Stadium August 18th. It will be the first look for the Giants at Tim Tebow.