http://www.faniq.com/images/blog/nbadraft.jpeg
The NBA Draft will take place tonight starting at . The New York Knicks currently will have a long wait to make their first selection.
Because of a trade with the Houston Rockets and Sacramento Kings in 2010 that landed the Knicks Tracy McGrady and Sergio Rodriguez, the Knicks are without a first round draft pick this year.
With such a deep class of college players declaring this year, there will be talent available at number 48 when the Knicks are picking, but that does not mean the Knicks are guaranteed to stand pat and just watch everyone else make moves, even though a draft night move for the Knicks is highly unlikely.
There have been rumors that the Knicks were shopping Landry Fields for a first round draft pick, but nothing concrete ever arose. It is also not possible for the Knicks to purchase a first round pick this year because they already used the $3 million dollar max in trades getting Tyson Chandler from the Dallas Mavericks.
The Knicks have very little else to use as trade bait, as Carmelo Anthony, Amar'e Stoudemire, Tyson Chandler and Iman Shumpert are looked at as players the Knicks will not or cannot move. The only options the Knicks have are Toney Douglas, Jerome James and Josh Harrellson. It is highly unlikely for any of these players to be moved for a pick because of the depth of this draft class. Teams will not be looking to unload picks for average to below-average packages.
With the 48th pick, the Knicks can't expect to land a star, but could find some valuable pieces. The Knicks have been successful the last two seasons in the second round of the draft, finding good players in Landry Fields and Josh Harrellson the last two seasons. One person to keep an eye on for this year's draft is Jae Crowder.
http://www.thesportsbank.net/core/wp-content/uploads/2010/12/jae-crowder.jpg
Crowder is said to not have a position in the NBA but that does not mean he does not have a spot on an NBA roster. Crowder would provide great energy and toughness for a Knicks team that could face the problem of making a whole new bench rotation this season. Crowder's size, 6'6" 235 lbs., enables him to play both inside and outside. It is also a positive that he has dependable range out to the NBA 3 point line. He would become an instant fan favorite in
Madison
Square
Garden
if given the chance.
If the Knicks go in the other direction and look for guards, two people to keep your eye out for are Darius Johnson-Odom of
Marquette
and Scott Machado of
Iona
. Both would provide the Knicks with different positives that would go a long way. Johnson-Odom would provide great size and toughness to a backcourt that will be without Iman Shumpert for the start of this season. He would also provide the defense that will be missed in Shumpert's absence. Johnson-Odom also provides NBA shooting depth and interior scoring with an array of floaters and NBA moves.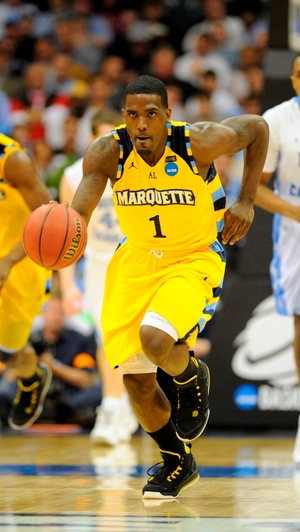 http://content.draftexpress.com/gallery/DariusJohnson-Odom/1318093701.jpg
Machado would provide the Knicks with leadership on the court, leading his small division 1
Iona
team to the NCAA tournament. Machado also finished first in the country with 9.9 assists per game. He has outstanding ball handling and can lock up on defense. Another asset the Knicks would covet in Machado is his ability to shoot the ball, as he shot 40.4% from the 3 point line. He is not the most athletic player available in the draft, but would help an NBA team in many other ways.
http://www.pickinsplinters.com/wp-content/uploads/2012/01/Machado1.jpg