Saturday, August 18th 2012
Final Score: New York Giants: 26 New York Jets: 3
Giants Hammer Jets, Win MetLife Bowl
The Jets are again making all the noise in New York during the off-season, but were reminded by the Giants who the defending champs were Saturday night as the Giants dominated the Jets on all fronts en route to a 26-3 win.
It was only a preseason game, which is good for the Jets as they struggled throughout every facet of the game, being the only team in the NFL to not score an offensive touchdown yet. As for the Giants, they are looking to almost be in midseason form.
The defensive front for the Giants was on all night, as Jason Pierre-Paul looked great, getting two sacks. The Giants made mince meat of Jets tackle Wayne Hunter, with Osi Umenyiora and Justin Tuck each getting in on the fun with half a sack to add to JPP's total.
http://cdn3.sbnation.com/entry_photo_images/5089829/20120818_jla_ae5_241_extra_large.jpg
The game wasn't perfect for the Giants, who had to settle for four Lawrence Tynes field goals. Head coach Tom Coughlin would like to see the offense execute better once the regular season comes around, but this is a time to just fine tune things and keep players healthy.
http://bloximages.chicago2.vip.townnews.com/bozemandailychronicle.com/content/tncms/assets/v3/editorial/5/6c/56c99a18-6bb6-5d4c-9760-99aae3112d3e/50305b67e4be2.preview-300.jpg
Health became a concern last night for the Giants, who had multiple players suffer injuries in the game. Ahmad Bradshaw was forced from the game after the first series with an injury to his hand. It was believed to be serious at first, but the x-rays came back negative and he just iced his hand on the sideline for the remainder of the game.
Backup linebacker Mark Herzlich also suffered an injury, getting only a few plays in before encountering a hip pointer and leaving in the third quarter. Backup defensive end Adrian Tracy also suffered an injury in the third quarter, being forced from the game with a hamstring injury. Both players have had good preseason for the Giants, so getting them back on the field would be beneficial for all parties.
Jayron Hosley had a strong game for the Giants, intercepting Mark Sanchez and returning it for a 77-yard touchdown in the second quarter; but was seen in a walking boot after the game. It was Hosley's biggest game and it ended in such a disappointing fashion. He will undergo tests Sunday to see just how bad the injury truly is.
http://assets.nydailynews.com/polopoly_fs/1.1139655!/img/httpImage/image.jpg_gen/derivatives/landscape_635/smith19s-1-web.jpg
With Bradshaw out, D.J. Ware got an increased workload for the game, but was unable to make anything of it. Ware was only able to muster 15 yards on 11 carries behind below averaging blocking as there were often no holes to run through.
David Wilson had a less than stellar night, but was the most successful at running the ball for the Giants, gaining 26 yards on eight carries. Da'Rel Scott made his first appearance of the preseason, gaining seven yards on three carries while Andre Brown rounded out the running game Saturday night with 10 yards on four carries.
The Virginia Tech products Hosley and Wilson had strong performances again as mentioned, showing the abilities that the Giants had hoped they would bring to the table. Not to be outdone was second round pick Rueben Randle. Randle made the most of his limited opportunities by reeling in a 49-yard deep pass from David Carr, making an impressive jumping reception over the Jets defensive back.
Victor Cruz may not have had a 99-yard touchdown reception this time around, but the Jets were still unable to contain him. Cruz opened the game just missing a deep reception down the sideline over Darrelle Revis, one of a few times Eli Manning and Cruz were unable to connect. Cruz also took a big shot from Jets safety LaRon Landry, but was able to hold on and give the first down signal when he popped up. Cruz was targeted often and reeled in five receptions for 51 yards in a half of work.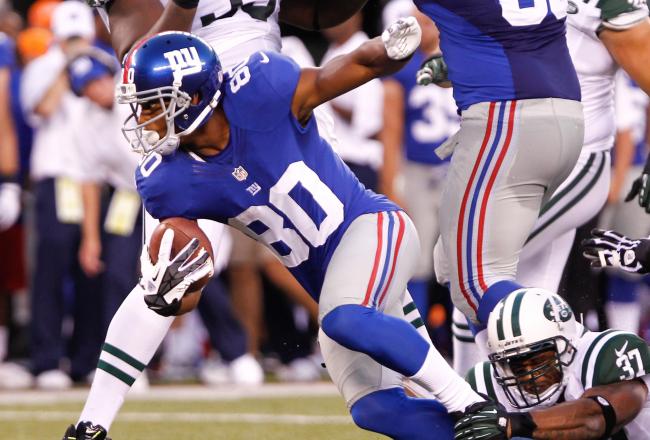 http://img.bleacherreport.net/img/images/photos/001/847/323/hi-res-hi-res-6502636_crop_exact.jpg?w=650&h=440&q=75
Cruz tore the Jets up Saturday night, as him and Manning have just continued to build amazing chemistry with each other since Hakeem Nicks has been sidelined. Nicks should resume practicing this week, giving Manning yet another weapon to use.
The Giants will continue their preseason next Friday against the Chicago Bears at MetLife Stadium.