Rangers Acquire Superstar Rick Nash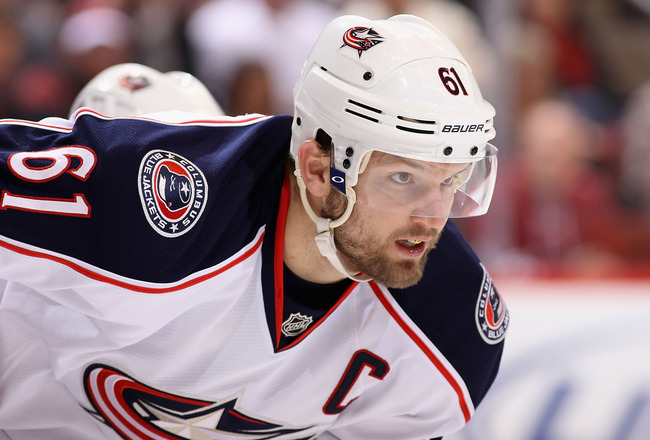 http://cdn.bleacherreport.net/images_root/slides/photos/002/396/568/143641428_crop_650x440.jpg?1341850207
There will be a Nash playing home games at
Madison
Square
Garden
this season after all, as the New York Rangers have acquired winger Rick Nash from the Columbus Blue Jackets.
The Rangers traded away forwards Brandon Dubinsky, Artem Anisimov, blue line prospect Tim Erixon and a first-round pick.
Nash is a seven-time 30+ goal scorer and will add some much needed offense to a Rangers team that lacked firepower, especially in the postseason when they averaged only 2.15 goals per game.
Dubinsky was a fan favorite of the Rangers faithful, but had an off year offensively after signing a four year $16 million contract before the season. Dubinsky managed only 10 goals and 24 assists for the season in 77 games and was even less effective in the playoffs, managing only two assists in nine games.
http://nyrzone.com/wp-content/uploads/2011/01/Dubinsky_B_0924_inside.jpg
Anisimov scored 16 goals and added 20 assists in 79 regular season games and three goals and seven assists in 20 playoff games.
http://la3eligne.com/wp-content/uploads/2011/12/Artem-Anisimov-Sniper.jpg
Erixon is said to have the highest ceiling of any player going to Columbus in the trade. The 21 year old played in 18 regular season games as an injury replacement, accumulating two assists.
http://a.espncdn.com/combiner/i?img=/i/headshots/nhl/players/full/5578.png&w=350&h=254