Jason Kidd to Sign with Knicks
http://www.nba.com/media/act_jason_kidd.jpg
In what is thought to be quite a turn of events, point guard Jason Kidd will be joining the New York Knicks.
Kidd, formerly of the Dallas Mavericks, was thought to be heavily considering re-signing with the team. In fact, as of this morning, the news was that Kidd had actually agreed to three year $9 million contract and that the Knicks were now putting their focus on Raymond Felton.
But as quickly as that news started to spread, Kidd had a change of heart and decided to become a Knick. After being outbid by the Lakers for Steve Nash, the Knicks needed to make a move and adding Kidd was a great pickup. The Knicks gave Kidd the same contract, signing him for three years and $9 million.
Kidd will bring a lot to the Knicks that they have been lacking. He brings championship caliber leadership and is a highly respected veteran around the NBA. He adds size to a Knicks backcourt; being a bigger body he should be able to play with any other guard on the Knicks roster. Also, Kidd will aid the Knicks in the rebounding game, an area in which they struggled at times with this past season.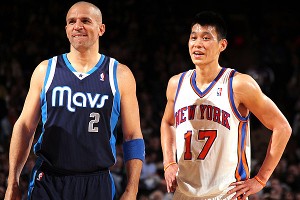 http://a.espncdn.com/photo/2012/0219/ny_g_kidd_lin_cr_300.jpg
Kidd also would be an outstanding mentor for Jeremy Lin if the Knicks are able to bring him back. Kidd knows a lot about the game of basketball and has been able to change the type of player he is as he has aged. He has a plethora of knowledge that he would have no problem sharing with Lin, as Kidd enjoys taking on younger players and mentoring them. Don't forget that the Knicks also have another young guard in Iman Shumpert who could learn a thing or two from Kidd as well.
A reason for the change of heart for Kidd, one that is not basketball related, has not been talked about much. That reason is an opportunity to be closer to his kids. After going through an ugly divorce earlier in his career, he now has a possibility to make up for lost time with his children, being a short distance away instead of halfway across the United States.